Discover Leiden's museums
As can be expected from a university city, Leiden's museums are world-class. And with all 12 brilliant museums in walking distance of one another, there's plenty to do on a cold, blustery or rainy day in Leiden. Here's our choice of the 10 best of Leiden's museums:
 The National Museum of Antiquities
Possibly the crown jewel of Leiden's museums, the Dutch National Museum of Antiquities (Rijksmuseum van Oudheden) is a must for fans of ancient cultures. Five permanent exhibitions feature the Egyptian, Greek, Roman, Etruscan, Near East and of course, Dutch civilizations. The museum's collection of Egyptian mummies and sarcophagi is superb. And with many exhibits being animated, the museum is fun and informative for young and old.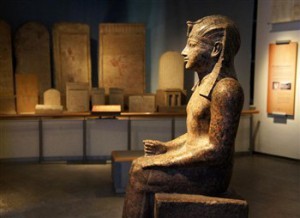 CORPUS – Journey through the human body
Certainly boasting the quirkiest architecture of all of Leiden's museums (a huge body), CORPUS is great fun for families with children (from about 8 years old). Once inside, visitors go an interactive 'journey through the human body' – starting at the bottom and working your way up through the brain. Along your journey you can see, feel and hear how the human body works. Our favourite was walking on a giant tongue (spongy material). You need to book in advance and should plan at least 2 hours for your visit.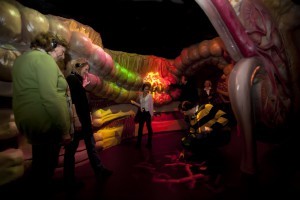 Naturalis Biodiversity Center
As the name suggests, Naturalis (National Museum of Natural History) is all about nature. Amongst fossils dating back millions of years, you'll find two dinosaurs, a 9-meter long mosasaurus, an ancient horse and a mammoth. The museum is great for kids.
The Boerhaave Museum
Leiden's Boerhaave museum is situated in a former hospital (St. Caecilia) and is named after a legendary university instructor, Herman Boerhaave (1668-1738).
The collection covers five centuries of natural and medical sciences. Highlights include the oldest pendulum clock made by Christiaan Huygens, Leeuwenhoek's microscopes, as well as Kamerlingh Onnes' ultra-deep freeze equipment and a prototype of the electrocardiogram. The Boerhaave museum is great for children, as you can even conduct your own science experiments.
The Botanical Gardens
Leiden's Botanical Gardens (Hortus botanicus) are the oldest in the Netherlands and have belonged to the University of Leiden since 1590. The Clusius Garden, named after the founder, is a copy of the first grounds' design. Four centuries of careful tending have produced a magnificent garden with various exotic and rare plants. The exceptional gardens and greenhouses, including the Japanese Gardens and the Victorian Greenhouse, are well worth a visit.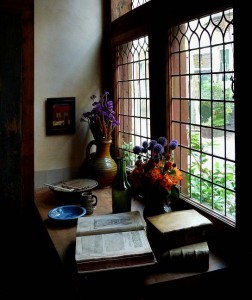 American Pilgrim Museum, Leiden
The Leiden American Pilgrim museum is all about the Pilgrim founders of New England, who stayed in the city on their way to America. Furnishings from these times depict aspects of their daily life, while events involving the Pilgrims themselves are illustrated with a collection of sixteenth and seventeenth-century maps. As well as engravings by artists such as Gerard Mercator, Adrian van de Venne, and Jacques de Gheyn.
The Siebold House, Japanese museum
You probably wouldn't expect to find the most beautiful ancient Japanese objects  behind a 17th century Dutch façade, but this is certainly the case at Leiden's the Siebold House. On display are thousands of natural, artistic and cultural Japanese treasures collected by Bavarian physician Philipp Franz von Siebold during the 19th century.
Museum De Lakenhal
Another of Leiden's museums, which details the crafts and history of the city is the Museum De Lakenhal. The museum is housed in the Laecken-Halle (cloth hall), a 17th century palace that is one of the finest examples of Dutch Classicism. The building used to be the centre of Leiden's thriving cloth trade. Highlights are works by Old Masters such as Lucas van Leyden, Rembrandt van Rijn and Jan Steen, but there are also works by contemporary artists such as Theo van Doesburg, Jan Wolkers and Erwin Olaf on display.
Windmill Museum De Valk
When in Holland you should at least see a windmill or two. And what better place to do so than the Molenmuseum de Valk? This authentic tower mill dates back to 1743 and even shows what the living quarters in a mill are like.
Museum Volkenkunde (Folk Museum)
In Leiden's Museum Volkenkunde (Folk Museum), visitors of all ages can take a world trip through ancient art treasures from all continents. Everyday objects from far-flung countries – such as clothes, eating utensils and toys – make this collection especially unique.