Enjoy Leiden's Canals and Waterways
With more than 28 kilometres  worth of canals and waterways in the city's historic centre, Leiden is a water-lovers dream. Leiden's canals date back to the 17th century. Second only to Amsterdam, Leiden is the Dutch city with the most waterways.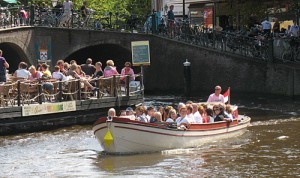 Boat Cruises in Leiden
If you're not satisfied with viewing the waterways on one of Leiden's 88 bridges, then Leiden's city water cruises are a great choice. For instance, the canal cruises offered by the Rederij Rembrandt (Rembrandt Shipping Company). Or why not hop on a water taxi and be ferried to your destination in an unusual way?
Boating around Leiden
You can also rent a boat at one of the many boat rental agencies, and the sides of Leiden's canals are low enough so you can moor almost anywhere. Although with some of Leiden's bridges being rather low, you will have to watch your head at times. Bootjes en Broodjes offer cruises and have electric boats to rent (no boating licence needed).
Sailing day-trips from Leiden
Leiden is also a good starting point for many daytrips by boat. You can sail to nearby towns and cities such as Katwijk and Delft and and the Kaag and Braassemmermeer are very close. For the truly adventurous, you can even travel by boat to Rotterdam.
Arriving in Leiden by boat
Leiden is also easily accessible for visitors arriving in their own boat. The city has two harbours – the Blauwpoortshaven near the Beestenmarkt is best for daytrippers (staying overnight is not permitted). There is also a harbour next to the Zijlpoort, on the outskirts of the city centre. This harbour can only be reached from the east, via the Zijl, the Rijn-Schie canal and the Old Rijn.
Leiden's waterways at night
Those who prefer to stay on dry land can still enjoy the water from one of the many delightful cafés and restaurants lining Leiden's canals, some with terraces directly on the water. There are even some boat restaurants. Leiden's waterways are spectacular by day – or night!