Leiden Sights & Attractions
Leiden is a friendly, small city with a large population of students. This university town boasts a beautiful, historic city centre (the second biggest after Amsterdam) and Leiden's fascintating sights and attractions  are sure to charm visitors – no matter how long they stay.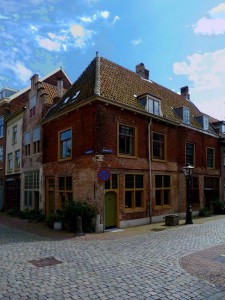 Historic Leiden
Dating back to around 860 AD, Leiden – or Leyden – is steeped in history. The city is known for having the oldest university in the Netherlands and is the birthplace of Rembrandt van Rijn. With many fascinating museums, places of interest and eye-catching monuments you are sure to be busy during your visit to Leiden.
American ancestoral roots in Leiden
Many of Leiden´s tourists – especially American – discover they have ancestoral roots in Leiden. This is because pilgrims from England lived and worked in the city from 1609 to 1620 on their way to the New World. Visit the Pilgrim Archives to see if you have any family ties in Leyden or Leiden.
Wall Poems
Also, be on the lookout for the numerous wall poems – in many different languages – to be found around the city. These poems are part of a project "Poems and walls", which began in 1992 with a poem by the Russian poet Marina Tsvetajeva. For peace and quiet, visit the beautiful courtyards (hofjes) of Leiden's almshouses.
Leiden Must-do's
While in Leiden you most certainly need to visit one of the world-class museums, keep your eyes peeled for the monuments that are dotted all over the city and chill out on Leiden's canals and waterways. And above all – have fun in Leiden!